Harga: Rp. 126900
BERAT:

250gr
DESKRIPSI:
Tersedia warna :
– Red *AUSK01RE*
– Black *AUSK01BK*
– Blue *AUSK01BL*
Spesifikasi :
Connection Bluetooth
Frequency Response 280Hz – 16KHz
Sound to Noise Ratio >95db
Channel Output 3w
Battery Capacity 520mAh
Dimension 60 x 60 x 50 mm
————————–
Package Contents
All item you get from the box :
1 x Bluetooth Speaker
1 x Micro USB Cable
Mini Metal Super Bass Portable Speaker is stylish, palm sized yet big in bass and volume. Extendable resonance of the Super Bass technology enables a strong clear sound. Metal Super Bass is ideal for listening to your music on the move or at home!
Features
Optimal Audio Quality
Even though it has small form, dont misjudge the quality of the sound from this speaker. You can enjoy your favorite music, movie and games with optimal sound quality.
Mini Speaker Design
It design to look simple and portable. Bring this speaker everywhere you go!
Bluetooth Connectivity
Can be use with any device that have bluetooth. You can play music from Smartphone, Ipod, and other device. Bluetooth range up to 10 meters.
Compatibility
It's compatible with many device that have Micro USB or Bluetooth connectivity. Apply with all music player , NB / PCs, iPod and iPhone.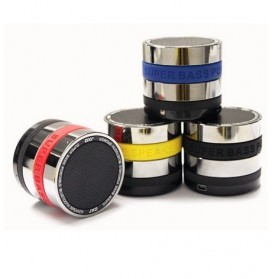 CARA PEMESANAN: 
Tidak ada format order khusus, bisa langsung di list (nama sandal yg diorder + nama penerima + alamat lengkap (Jl, RT, RW, Kelurahan, Kecamatan, Kabupaten, Propinsi, Kodepos) + No HP Penerima ( Apabila Dropship Cantumkan Nama + Nohp Pengirim ) Kirim ke SMS / WA Ke :

082318606062

Tidak menerima order by phone untuk mempermudah dan mempercepat rekap Untuk cek ongkir pengiriman bisa dicek sendiri dari JAKARTA atau bisa ditanyakan ke Customer Service Tidak bisa keep dengan alasan apapun Pengiriman yg tersedia : JNE/TIKI/WAHANA/POS KILAT/JNE TRUCKING MIN 10kg/POS BIASA Min 3kg Apabila kurang jelas bisa ditanyakan ke Customer Service
CARA PEMBAYARAN :
Pembayaran melalui Rek : BRI :

444901014457536

An.

Asep Sapta Prasetia W

#Pastikan order sudah benar #Konfirmasi secepatnya setelah transfer #Pastikan NAMA PENERIMA/ALAMAT LENGKAP/NO HP Sudah benar
Jangan lupa kunjungi alamat market place kami di https://shopee.co.id/rumahherbal86 dan https://shopee.co.id/cantikherbal87